Alright, this one was a bit of a rush job. I had solid days of interviews, work, and running around town trying to settle everything- I'm still pretty proud of what came of it, though.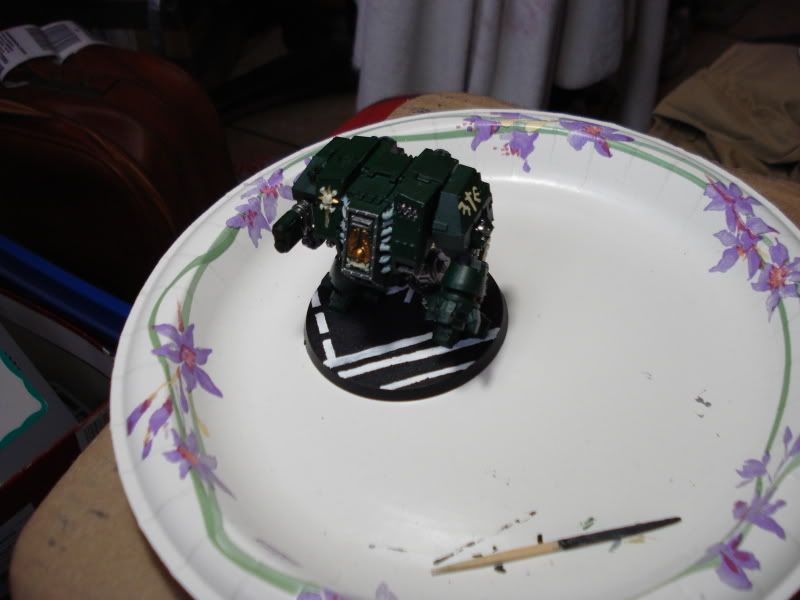 This angle, you can see the freehanded Dark Angels crest on the left shoulder. I applied it with a toothpick (the stirring stick you see at the bottom of the picture) because I don't yet have the brush control I'd like. You can also see, on the base, the crosswalk and road lines - even part of the left turn arrow, though his foot is placed right over it. That was happy coincidence, on my part, because the bits I did get were a pain.
This shot didn't have very good lighting- there's lines of black on the Oath of the Moment, or the Purity Seal (never sure which is which) and the tanks on his meltagun arm were based with dark grey, covered with boltgun metal, then a thin coat of Scab Red was applied. The metal doesn't shine through as I'd hoped- probably should have mixed the two and then painted for the real effect I wanted. On this one, again, you can see details of the road lines. (As I live in the US, my only reference is US road markings, so that's what I've done them as.)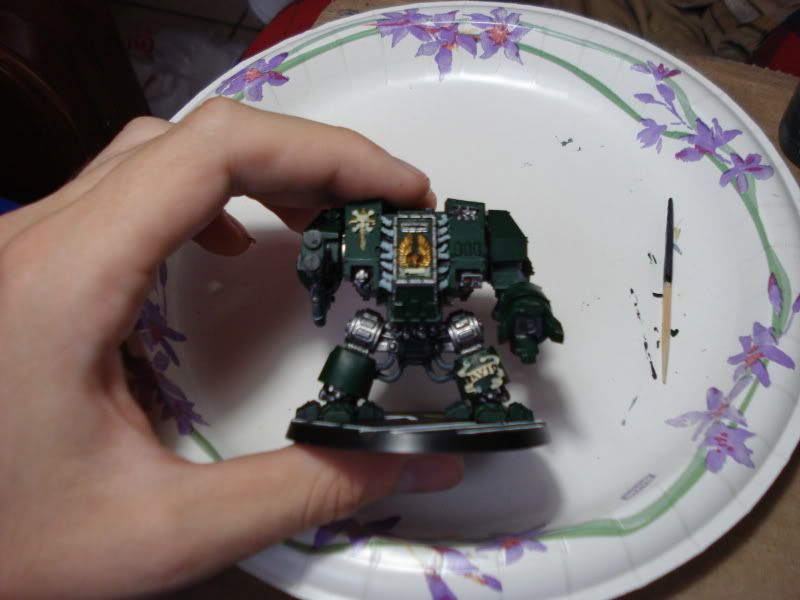 Shot of the front- shows the scrollwork on the leg quite well, actually. His name was originally Brother Davidicus, but there was no way I was fitting that all there- his name is now simply Brother David. You can also sort of see the red that I went over the lenses with, and the light grey of the hoses leading to the sarcophagus- I really like the contrast between those, and the ones lower down or on his arm. They indicate that what they're funneling power, etc. to is different than the rest of the suit, sort of a cut above simple leg motor cables.
Shot of the back, here- you can see the extent of the Boltgun Metal on all the assemblies down there (the codex didn't have any rear views of it, for which I'm disappointed- I had to guess) and you can sort of see the back of the meltagun tanks, and the cable to the close combat weapon which I painted Bleached Bone just for the contrast.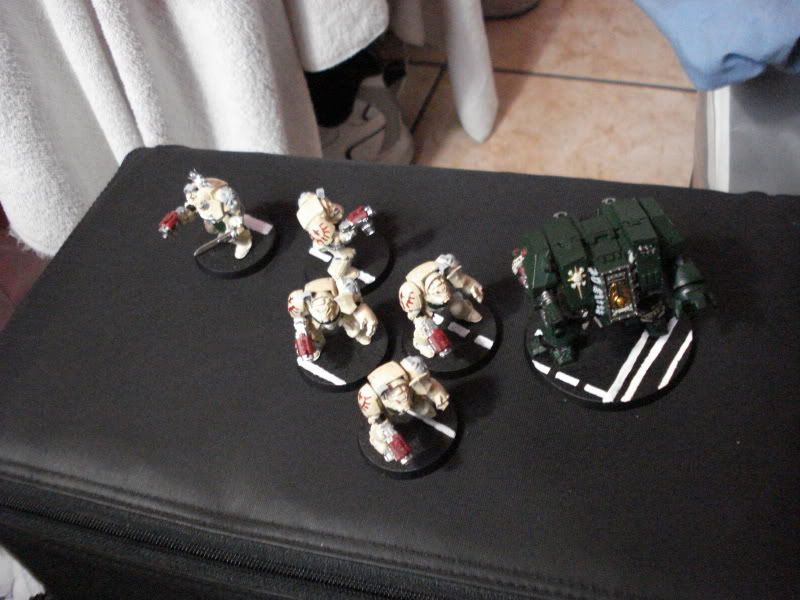 Here, I tried to go with a shot involving everything I'd painted for the TOEMP so far. Tried to arrange them in a fashion where all the road lines matched up, which worked fine except for the sergeant.
Well, there you have it- my dreadnaught. Points:
Walker - 5 pts
Icons - 1 pt
Lenses - 1 pt
Walker Details freehand - 5 Pts
On time - 1 pt
Total - 13 pts